Who Are You Independent of Your Relationship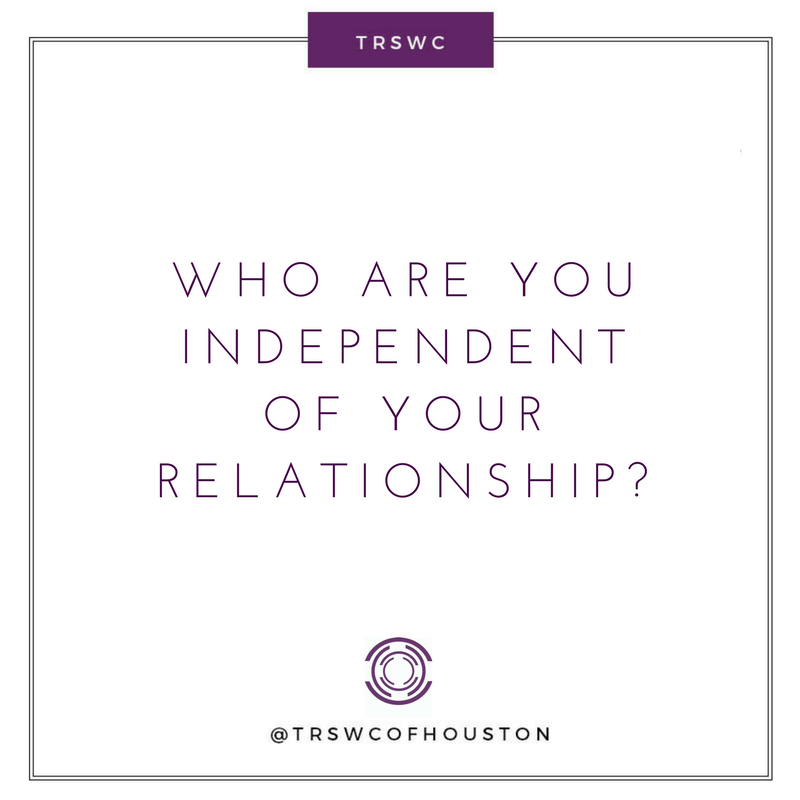 WHO ARE YOU INDEPENDENT OF YOUR RELATIONSHIP?
As a relationship therapist, I often witness people struggling to balance autonomy and coupledom.
I empathize with them--relationships are tough!
It doesn't help that our culture consistently feeds us the Jerry Maguire, "You Complete Me," myth.
We see it in movies, read it in books, hear it in our music.
Wherever we turn, we're fed the belief that someone "out there" will come into our lives and fill our void.
YIKES!
Naturally, we begin to believe this myth and assign the task of making life better for us to our romantic partner.
Then one day they show up and things DO get better...for a while.
But then the void resurfaces and we desperately want our partners to ease the discomfort.
When they fall short of the impossible task of "completing us," angst and desperation begin to erode the relationship.
The ache of the void rages more than ever.
WHAT HAPPENED?!
Maintaining our identity while incorporating others into our lives is challenging.
There's no secret formula or one-size-fits all template.
Each of us must customize a blend of autonomy & healthy attachment that feels personally authentic.
We must also learn to navigate through the discomfort that deepens when one partner leans heavily on autonomy or desperately pushes for interdependence.
WE MUST NEGOTIATE OUR DIFFERENCES.
Even though, I'm considered a relationship expert, YOU are the expert of your life, so I don't know what the perfect blend of autonomy & interdependence is for your relationship.
But I believe the way to find out is by going inward first.
How well do you know yourself?
How much responsibility have you taken for your own happiness?
WHO ARE YOU INDEPENDENT OF YOUR RELATIONSHIP?
The reality is our partners can support our growth and provide us with the type of love, compassion, and empathy that feeds our personal evolution, but they can't free us from the responsibility of loving ourselves. Nor can we free them of theirs.
So make some time to explore who you are independent of your relationship.
You and your partner may be pleasantly surprised at what you discover.
The irony is it may even strengthen your relationship more than ever.
I see you.
Keep going.
Yes you can.
You amaze me.