Dear Mama: Four Ways to Mother Yourself On Mother's Day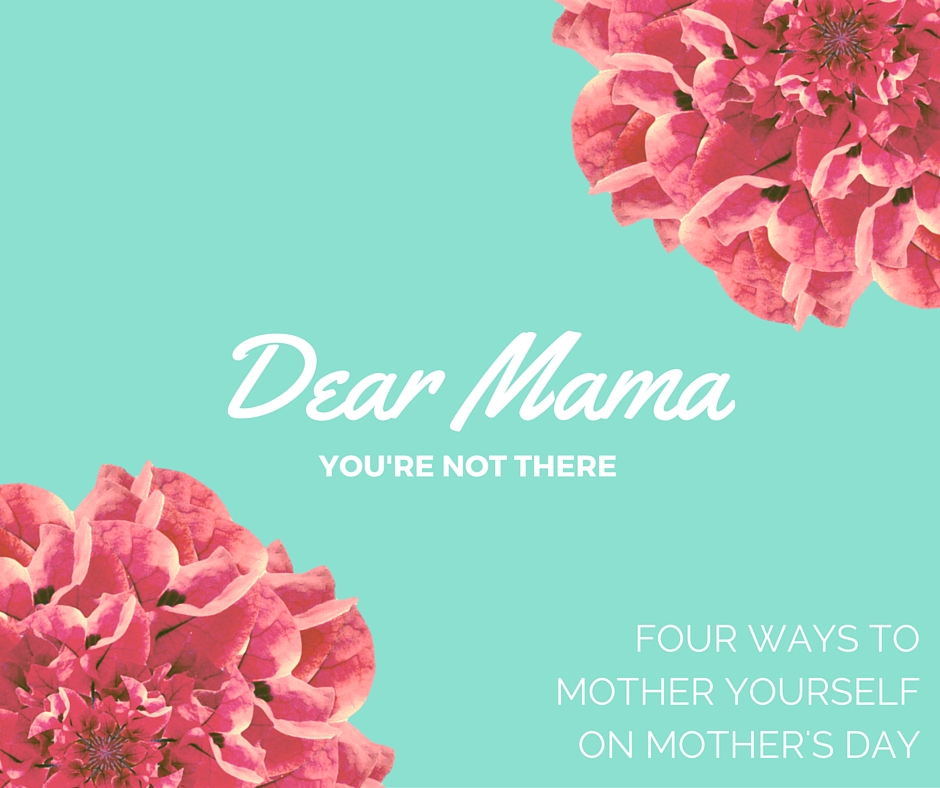 Four Ways to Mother Yourself on Mother's Day
This Sunday, Mother's Day, many will celebrate motherhood.
Mothers will be asked to take a break and will be treated to extra attention.
They will be thanked for their endless devotion to their families and reminded that their efforts are not in vain.
Thank you for being so selfless, Mamas.
But just like any other holiday, some people dread the pending day because their relationship with their mother or motherhood is a reminder of deep pain.
Maybe you're one of those people.
Mother's Day may be a cruel reminder that the mother you once loved so profoundly is now gone. All that is left are memories and steadfast grief.
Missing Her is as tough as ever.
Maybe Mother was never there; she exited a long time ago.
When Mother's Day rolls around it may remind you of the love you longed for, the love you needed, the love you never experienced.
Grief kicks in.
Perhaps you've longed to experience motherhood, but because of life circumstances, you haven't been able to know what it feels like to be somebody's mother.
You've longed for it, but it hasn't happened and you ache to have someone call you, "Mommy."
The grief is heavy.
Maybe your mother is still alive, and you will celebrate her, but your relationship with her is interlaced with love, pain, and resentment. She was never the type of mother you needed her to be.
Maybe she tried; maybe she didn't, all you know is that you love her, but, she hurt you profoundly along the way.
Your grief is about not having the mother you needed and it is confusing and weighty.
If you find yourself struggling this Mother's Day weekend, I encourage you to pause, breathe, and take the opportunity to mother yourself.
Do for yourself this weekend what a loving, nurturing mother who is in sync with her child would do—meet your needs.
Four Ways to Mother Yourself This Mother's Day:
1. Identify Your Needs. When a mother is in-tune with her child, she will turn to them when they are in distress and with earnest curiosity attempt to discover what their child needs. Are you feeling irritable? Sad? Angry? Take 5 minutes to quiet your mind, take some deep breaths, and ask "what do I need today to cope with this distress?"
2. Meet Your Identified Needs Creatively. Perhaps you discover that you need the comfort of nurturing touch—like that of a mother, but you don't have someone in your life to provide it. Schedule a massage or some other form of healing service. Run a warm bubble bath, spend some time outside feeling the warmth of the sun. Be flexible and creative and find healthy, non-harming ways to meet your needs.
3. Mother Someone Else. A mother's love is healing and comforting. Tap into your maternal side (men can do this too) and volunteer that day at a children's hospital. Visit patients who have lost a mother and help lift their spirits with your presence.
4. Plan a Special Ceremony. Set some time aside to remember the woman/ women who helped raise you by bringing out old photos and telling some of your favorite stories about them. Visit their favorite restaurant, cook their favorite meal, play their favorite music--invite the memories of them to join you instead of avoiding them. If you feel like this may be too overwhelming be sure to have a trusted loved one nearby with whom you can process your feelings.
Our relationships with our mothers/motherhood are some of the most complicated because of the deeply rooted attachment we have to them.
Whatever you decide to do this Mother's Day remember to be kind to yourself. Allow yourself to grieve and commit to re-mothering yourself this Mother's Day and every day in between.
DISCLAIMER: THE RELATIONSHIP & SEXUAL WELLNESS CENTER blog and website are not intended to be a substitute for legal, ethical or medical consultation or for treatment and is strictly for educational and entertainment purposes. Nothing found on the website or email is a substitute for professional psychological, psychiatric or medical advice, diagnosis or treatment. Always seek the advice of your physician or other qualified health provider with any questions you may have regarding a medical or mental health condition.