Self-Care When The World Feels Unsafe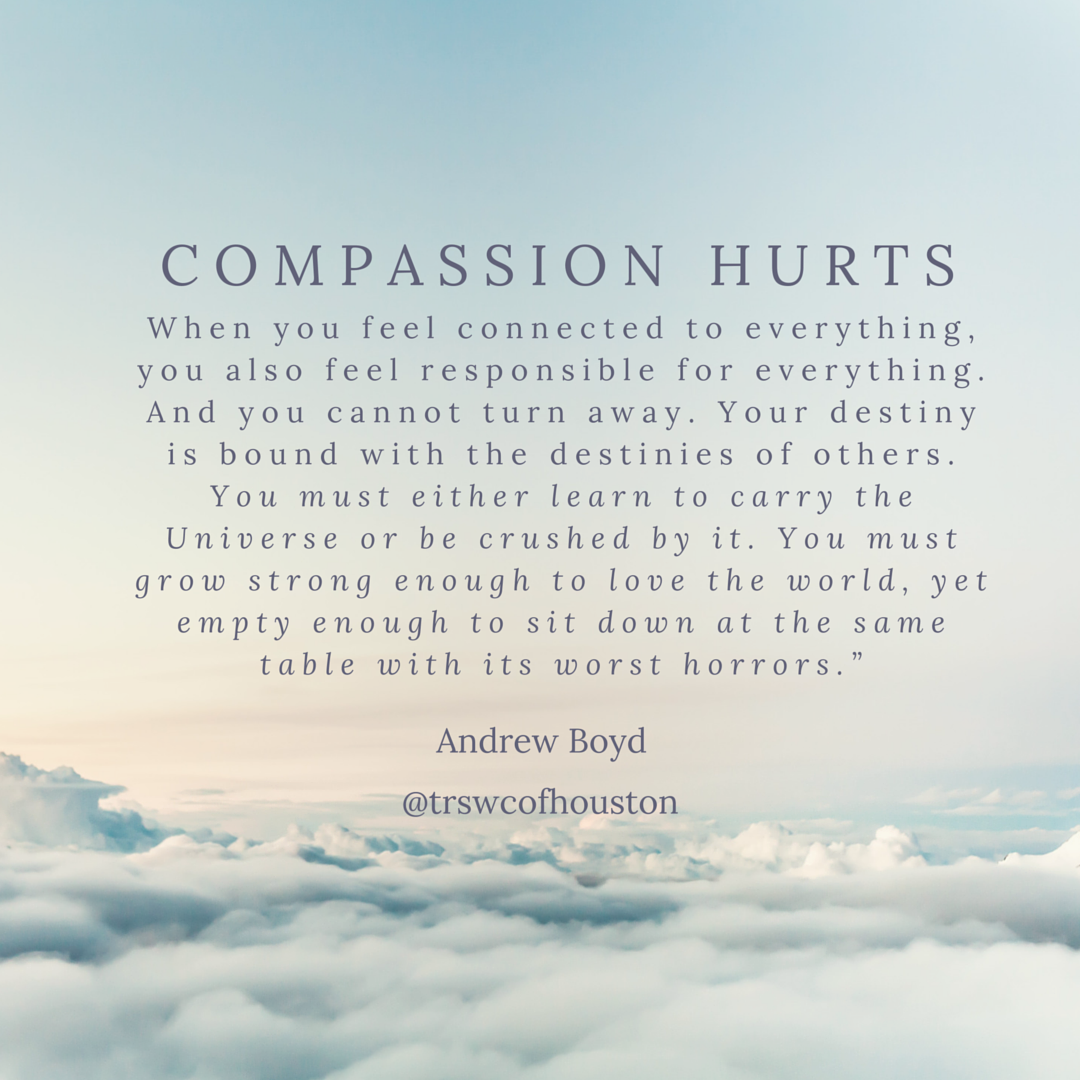 SELF-CARE WHEN THE WORLD FEELS UNSAFE
What a challenging time to be alive.
[sigh]
All the violence this week has left many of us experiencing intense & overwhelming emotions--not knowing how to manage the heaviness in our hearts. Before continuing our desire series we wanted to address the collective grief & trauma many are experiencing today.
During times of despair, it's common to overlook our self-care. Poor self-care can contribute to our state of unease and even lower our immune system. Though these few isolated activities won't solve the tremendous problems we're facing they may better equip us to be part of the solution.
If the emotions you're experiencing become too overwhelming, please seek out the help of a professional. SAMHSA (the Substance Abuse And Mental Health Services Administration) has put together a guide on coping with grief after community violence. You can download it by clicking HERE. You can also call 1-800-985-5990 or text "TalkWithUs" to 66746 to get help and support 24/7 from their hotline.
Below are our (4) suggestions on how to care for yourself during this difficult time.
SELF-CARE WHEN THE WORLD FEELS UNSAFE
-Take A Break From Social Media. You may feel inclined to stay informed on the latest stories, but pay attention to the physical sensations your body is experiencing as you scroll your newsfeed. Is your heart racing? Do you feel nauseous or tension? Is there a tightness in your chest? These may be signs that it's time to logoff for a little while and take a break. It's ok. You can come back later.
-Get Enough Rest, Food, Water. The images, stories, and heated discussions you're exposed to can emotionally & physically drain you. Get to bed at a decent hour and take 30 minutes beforehand to engage in an activity that will cue your body to relax (i.e. prayer, meditation, drinking hot tea, a bath, or soothing music). Also ensure you're eating healthy meals & staying hydrated.
-Set Aside Time To Be With Supportive People. Tragedy and crisis can bring out the worst in people--fear, anger, despair. Set aside time to spend with people who you know will validate your experience and lend their compassionate support. Avoid people who may trigger you during this time until you feel prepared to respond...& remember you don't have to respond.
-Engage In At Least 1 Activity That Brings You Joy. Your emotional response to the traumatic event is valid and it's real. Often our emotions are not the problem, but how we respond when we experience them can be. It's normal to feel grief after a traumatic event. Grief is a process. Just try to engage in at least 1 joyful activity that day--even a brief one. It can be as simple as going outside for a walk, slipping into your favorite PJs, watching a funny show, or eating dinner with a loved one. Cultivate a moment of joy.
None of these activities are likely to solve the problem which is causing you the distress. But by actively staying aware of your personal needs you will be better equipped to contribute solutions to the greater collective issue at hand. Be well and take care of yourself. *Remember, if things become too overwhelming, seek out a professional to help you process any emotions that may feel too overwhelming to manage on your own.*
DISCLAIMER: THE RELATIONSHIP & SEXUAL WELLNESS CENTER blog is not intended to be a substitute for legal, ethical or medical consultation or for treatment and is strictly for educational and entertainment purposes. Nothing found on the website or email is a substitute for professional psychological, psychiatric or medical advice, diagnosis or treatment.Always seek the advice of your physician or other qualified health provider with any questions you may have regarding a medical or mental health condition.